Description
This is an 8x10 (20x25cm) black and white photograph. This photograph has been stored in archive filing cabinets and is in excellent condition. Photographs were produced by the film studios and television networks to publicize their movies and TV shows and were often distributed to the press and newspapers and magazines internationally. This is a unique piece of cinematic history.

At Movie Market we have a huge archive of original 8x10 photos that has been amassed over a 40 year period. We have most movies, television shows and celebrities from the early 1920's to present day.
We have now introduced our Remastered Originals which are directly professionally high resolution scanned from the original studio 8x10 photographs. This gives us a wonderful crisp highest quality result. All of the information on the original is on our Remastered version, movie title, cast etc.
These are available in the original 8x10 inch size and also an enlarged 11x14 inch size as well.
Product Information
Posters
24x36 inch (60x91cm), 24x30 inch (60x76cm) and 16x20 inch (40x50cm) These are custom made posters that will look stunning on your wall. These are one of a kind and made especially for you printed on premium quality 240 gsm archival satin photo paper.
Photographs
8x10 inch (20x25cm) or 11x14 inch (28x36cm) are real photographs printed on Fuji Crystal ArchiveSuper type C glossy paper. This is the ultimate in photographic papers and gives brilliant black and whites, more vivid colors and improved highlights to museum and exhibition.
Aluminum Metal Prints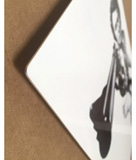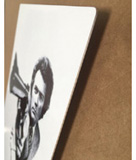 8x10 inch (20x25cm) or 11x14 inch (28x36cm). Bring images to life with the added depth of metal. The image is printed directly onto a sheet of 1/16 inch thick aluminum via sublimation with a high gloss finish complimenting the rich colors of any image to produce stunning results. Our metal prints are extremely durable, they are light weight and will not bend and are also water resistant and give a luminous quality that a regular print or photograph cannot replicate! The image is actually part of the metal and cannot be scratched off. Our picture examples show a typical display and how they hang on a wall about ½ inch proud to give an illusion of depth. We guarantee your 100% satisfaction.
---